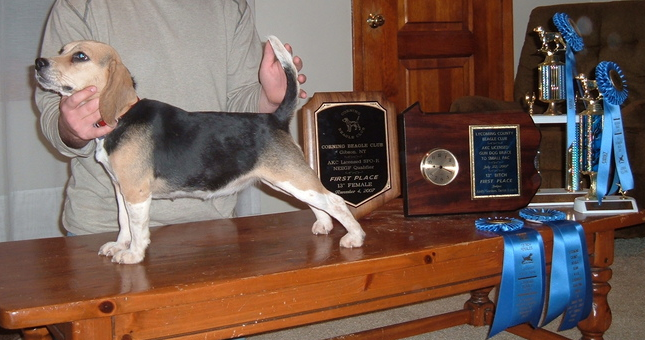 Here are a some fine hounds that were either born or started here and have been sold, given away, or are deceased. Some of them left here as pups, some of them left as solid running dogs, and some left after becoming Field Champions. All of them left me with wonderful memories and some of there blood still flows through my current stock.
Lynn is a tough little hound; she has won trials on hare and cottontail. She was born in May of 2004. Lynn was also the 2007 NEBGF 13" Female Consistency winner She was the check dog in my hunting pack and has a huge nose, but no extra mouth. She is producing well also; FC Knight -Line Mick who also won the NEBGF AA Championship in 2012. Lynn was passed away in the spring of 2014.
Huck's Run Molly Hatchet

Molly's DOB is 1/9/10. She is a boderline 13" hound that has great search and hunt. She is out of one of the best females I have ever seen, FC Five Point Misty. And, her sire is a great dog as well, FC Adirondack Mountain Bobby. Molly developed into a very strong running hound and was sold to Eric Messier.

Huck's Run Timmy

Timmy is a good looking black blanket male out of Tucker and a Branko/Northway Bitch (DOB-3/25/2009). Timmy has one win in a class of 31. Timmy got a little too strong for most of the trials I attend and was sold to Bob Jorgenson of NY.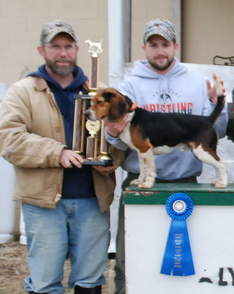 Mick is out of FC Main Man Tucker x FC Pine Run Lynn. He was bought from me as a puupy by Jim Knight. Mick was runner up at the PBGA Derby Championship in 2009. He finished at just under 2.5 years old with three wins under six different judges. This is a picture of Mick at Pine Hill beagle club after winning a class of 29.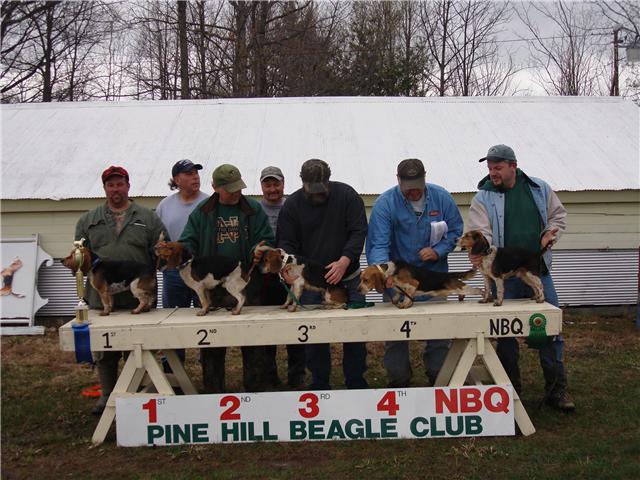 Mike's Shoot Em Up Bonnie

I bought Bonnie as a pup from RB Sester from KY. She is line bred Indian Hills. Bonnie was a great running dog, but a little too competitive at times. I sold Bonnie to Steve Mahonski. Steve and his family love Bonnie and she is still there number one hunting dog. Steve bred Bonnie to FC Main Man Tucker three times and this cross produced some fine hounds.
FC Hocking Hills Daisy Duke

I bought daisy as a pup in OH. She turned out to be a great hunting dog. A friend of the family, Roger Wingfield, had just lost his beagle to old age so I sold him Daisy. With in a few months Roger joined the Lycoming County Beagle Club and spent his free time running Dasiy. He soon figured out she was a great little hound and finished her a couple years later as an AKC Field Champion.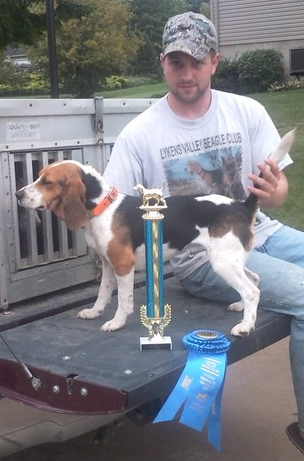 Maggie was a 14" female out of Tucker and an Indian Hills Bitch that I got off R.B. Sester as a puppy. Maggie was a great jump dog and was very tough and gritty. She finished SPO on Hare at Java Village Beagle club on May 19th 2012. She also produced one of my best hounds FCGD Huck's Run Star Dust. Maggie passed away just shy of her 7th birthday while giving birth to her 3rd litter of pups.
R.I.P.
​FC Main Man Tucker - AKC DNA #V514785

Tucker was a true jump-dog and a rabbit dog supreme (DOB- 10/21/2003). He was also a tremendous snow hound that really excelled when temps went well below zero. He is heavily line bred DFJ. He produced some super nice hounds, and if nothing else he is producing rabbit dogs that HUNT and can bring a rabbit around to the gun.
As ofJuly 2017 Tucker has produced:
FC Kinght-Line Mick (2012 NEBGF 13" Male Champ)
FCGD Huck's Run Bruiser (2010 NEBGF & PBGA Derby Consistency Winner)
FCGD Huck's Run Shoot Em Up Maggie
FCGD Sugar Run Alli Baba
FCGD The Man The Legend The Duke (2010 Won PBGA Derby Championship)
FCGD Sugar Run Sysco (2014 IBGA 13" Male Consistency Winner)
​FCGD Huck's Run Moonlite Molly (2013 IBGA Derby Consistency Winner)
​
​Huck's Run Timmy (1 win) sold to a hunter