FCGD Huck's Run Bruiser
- AKC DNA #V650050
Click on pic to view pedigree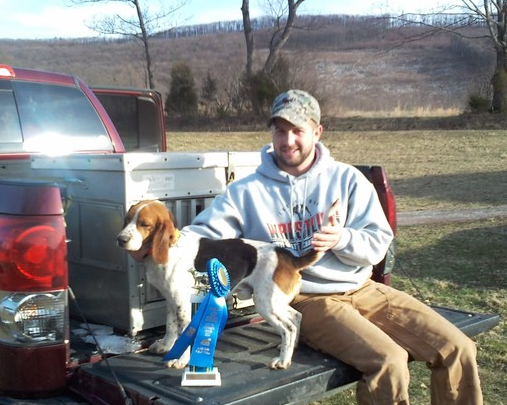 Bruiser has become the total package and the type of hound I am breeding for (DOB-1/31/2009). He has a special combination of nose and proper use of mouth. Bruiser is a top Jump dog and a tattle tale when is comes to running off game. He handles well and is a gun hunters dream. He is a rugged built dog and can still beat the heck out of the young dogs at 8.5 years old. IMO he is the best dog out of my FC Main Man Tucker. Bruiser won the PBGA and the NEBGF 15" Male Derby consistencies in 2010. He also placed first in show and GFW multiple times. Bruiser finished for his FCGD at Pioneer Beagle Club on May 21st 2011. His wins came under six different judges in the following states VA, PA, and NY all in classes of 20 or larger.
Bruiser is producing some nice hounds, 6 - Gun Dog Field Champions to date with more to come. If you are interested in breeding I require a brucellosis test and stud fee is private treaty.
FCGD The Man The Legend The Duke
Duke was born June 27th 2009, he was my stud dog puppy out of Tucker and Mike's Shoot Em Up Bonnie. I bought Bonnie as a puppy from R.B. Sester in KY. She is line bred Indian Hills. Duke has a big nose, good foot, great hunt, and good looks. Duke won the 2010 PBGA Derby Championship as well as the grand-final winner. I got Duke back at my place in early July 2012 and he finished for his AKC Field Championship at Corning in August 2013. My cousin Josh Reese and I are co-owners of Duke. This photo was taken after Duke won a class of 40 at Cayuga Lake's Licensed SPO trial in July 2012.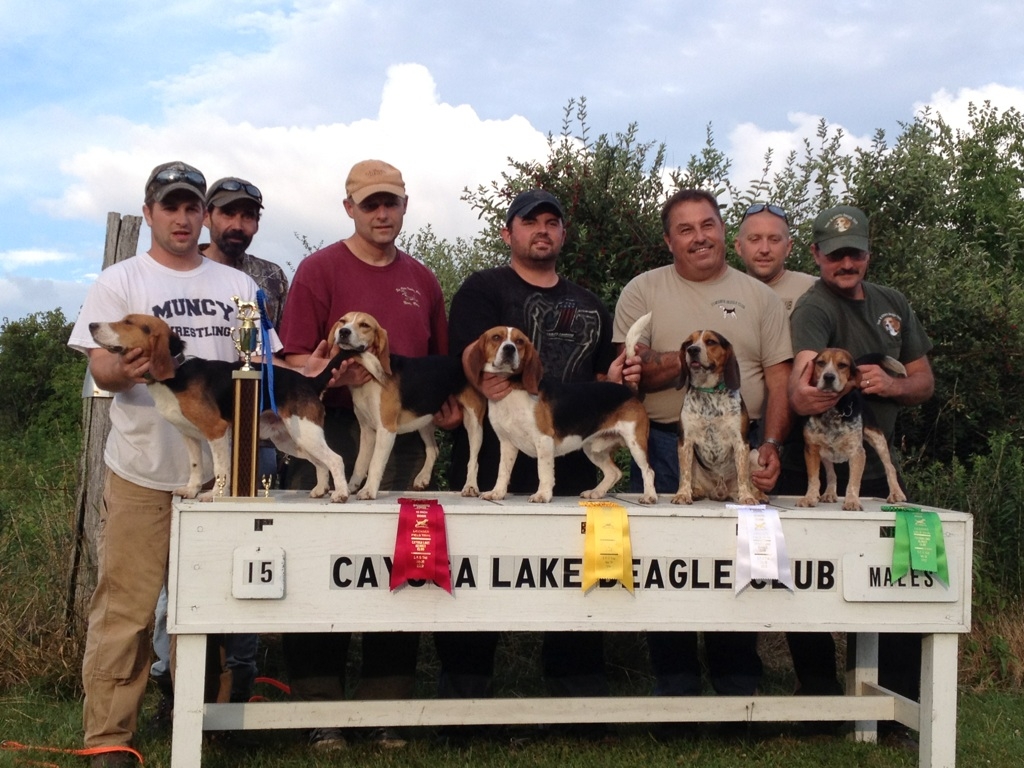 Kado is out of FCGD Huck's Run Bruiser and FC Chop A Line Leann. Born 08/10/2014. Kado has 2 litter-mates that earned their Field Champion Gun Dog titles in 2017. Kado really stepped up his game in the second half of 2017. He won 3 trials NOT including the grand final winner and show class he won as well. He also took 2nd in the 2017 PA State Championship. We are having a great hunting season so far in 2017 and Kado continues to impress me with his huge nose and snow running ability. Kado won the 2018 IBGA Consistency, but passed away shortly after turning 4 years old.
Rubble has developed into a top notch rabbit dog and finished for his Field Champion title in April 2021. Rubble's sire, FC Buck's Branch Kalagha, is a Hall of Fame hound that passed away in 2005. The breeding was done using frozen seman and was surgically implanted into the dam. Kalagha's owner Les Blondino is also in the Hall of Fame for beagling. Rubble's mother, FCGD Huck's Run Star Dust, was one of my top females and was a true jump dog. Rubble is a great looking hound that needs no help to run a rabbit. He likes to push a rabbit or hare as hard as the conditions allow. He has a good nose coupled with a super clean mouth. He hunts hard and jumps his share.
FCGD Huck's Run Rubble On The Double
Blacky turned 2 in May 2021, and is a solid little rabbit that continues to get better. Blacky won the PBGF Derby Championship on 10/02/2020 and was also crowned the Grand Final Winner. He has some licensed places including a win at Tunkhannock beagle club in June 2021. He has a huge nose and is quick to claim with a big mouth. He doesn't care where he is at in the pack, but will turn you to death. Blacky hunts HARD and is a great little jump dog.